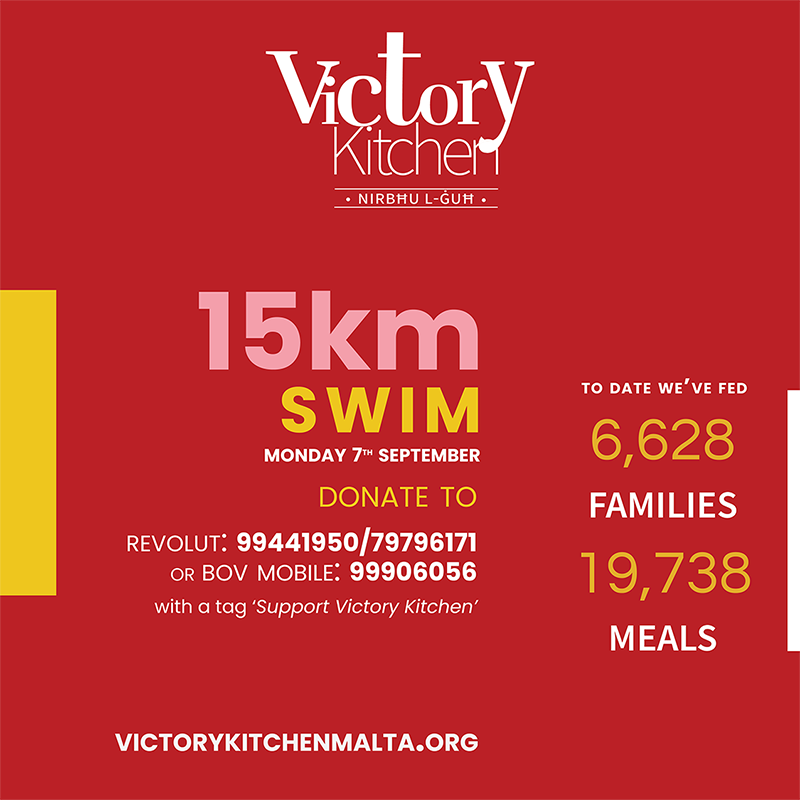 04 Sep

Fundraising Swim in aid of Victory Kitchen on Monday

Victory Kitchen founder, Rafel Sammut, is organising the first ever event in aid of Victory Kitchen. A 15km swim from Ċirkewwa, round Comino and up to Gozo, which will take place on Monday 7th September 2020, weather permitting. In recent months Rafel, together with a number of other local chefs, have managed to feed almost 7,000 families by providing over 20,000 meals. Victory Kitchen needs constant support in order to keep providing for these families in need.

"We intend to continue our services on a permanent bases and hopefully reach out to even more people over the coming months," said Rafel. "Hence we are organising this swim. We want to raise awareness about Victory Kitchen. If we receive more support, we will be able to help more families in need."

Additional donations may be sent via Revolut on +356 99441950 or +356 79796171. Alternatively, donations can be sent through BOV mobile on +356 99906056. One must include the tag 'Support Victory Kitchen' when making the donation. One can contact Victory Kitchen through Facebook or by calling on 99906056.

Victory Kitchen is a food charity organisation that was set up with the sole intention of delivering food to as many people as possible during these difficult times.

Rafel said, "I would like to thank everyone who supported us to date. We need all the help we can get and we hope that this fundraising event will help us raise more awareness and assist us to continue feeding more people in need."

For more information about Victory Kitchen log on to www.victorykitchenmalta.org.